HOJ Consulting GmbH
HOJ Consulting GmbH is an engineering consulting company with expertise within structural design, risk and safety analysis and the impact of fire on structures.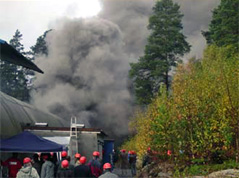 Our expertise include design of underground structures, structural analysis of tunnels, risk analysis of the construction process as well as operational risk analysis for tunnels, fire safety engineering, fire design of concrete structures and decision support.
Our clients are public authorities, contractors, research institutes and consultants. HOJ Consulting is based in Switzerland and has experience from many countries in Europe and worldwide.
HOJ Consulting has furthermore been an active part in a number of major EU research projects.
News

Fehmarn Belt Bridge
HOJ Consulting has been awarded of the tender design of the 20 km long Fehmarn Belt Bridge between Germany and Denmark as part of COWI-Obermeyer JV, after the successful prequalification. HOJ Consulting is responsible for the risk analyses for the Fehmarn Belt Bridge, and the activities include comprehensive risk management and risk analyses (operational risk and construction risk).


Risk analysis in Norway
HOJ Consulting has won a framework contract for risk analysis of road tunnels in Norway. HOJ Consulting in association with Matrisk is one of four consortia to hold this contract, which gives access to carry out risk analyses on road tunnels for the Norwegian road administration.